What are the best songs to learn the piano? How might you go about choosing what to learn? What do different styles of music offer the piano student? How might repertoire choice deepen and impact learning? This article covers all these, and also takes a close look at some core repertoire.

Top Skoove Piano Song Lessons
More Songs to Play for everybody
Personal Expression and Individual Musicianship
Music offers one of the greatest joys and releases known. The opportunity to express
your
unique self without the limitations imposed by words and explanation is something to cherish. It is particularly enriching in the lives of amateur pianists because they are not restricted by what sells tickets.
Music certainly isn't a universal language in the sense that you could use it to express any thought to any person on the planet. But music does have the power to evoke deep primal feelings at the core of the shared human experience. – – David Ludden Psychology Today, full article here.
What are the best songs to learn the piano?
The songs that inspired you to learn in the first place!
These songs communicate something you connect to and something meaningful for you to say.

These songs are the greatest source of motivation as you work hard at developing the skills needed to play them.

These songs are important to you and so are the most natural place for you to learn to express yourself beyond words.
Collectively, these songs offer meaning, motivation and an opportunity to develop your expression and communication on the piano. These are great criteria to select repertoire by. What songs inspired you to learn?
An all time favourite is 'Hallelujah' by Leonhard Cohen from 1984. Skoove has arranged this song to make it accessible to piano beginners. Why not have a play now? The Skoove app shows you the exact fingering and waits patiently until you have played the right key.
Did you notice how quickly the sense of pulse (timing) became intuitive and you could focus on listening and expressing the music? This is the point all pianists aim to arrive at. By playing this song regularly you will develop your fluency, freedom and expression at the piano. You will also feel a sense of achievement when you begin to play the piece in fuller arrangements in the future. An arrangement of this song has even been used as an exam piece for advanced foundation level.
Case Study
I know an adult student. He works enthusiastically and makes fast progress. In fact, his pianistic development has been very inspiring. Recently, I discovered that before starting piano he made a list of the pieces he most wanted to learn to play. These are referred to as 'list' pieces. For him, learning and crossing pieces off his list and building his repertoire has been hugely motivating.
What are your 'list' pieces?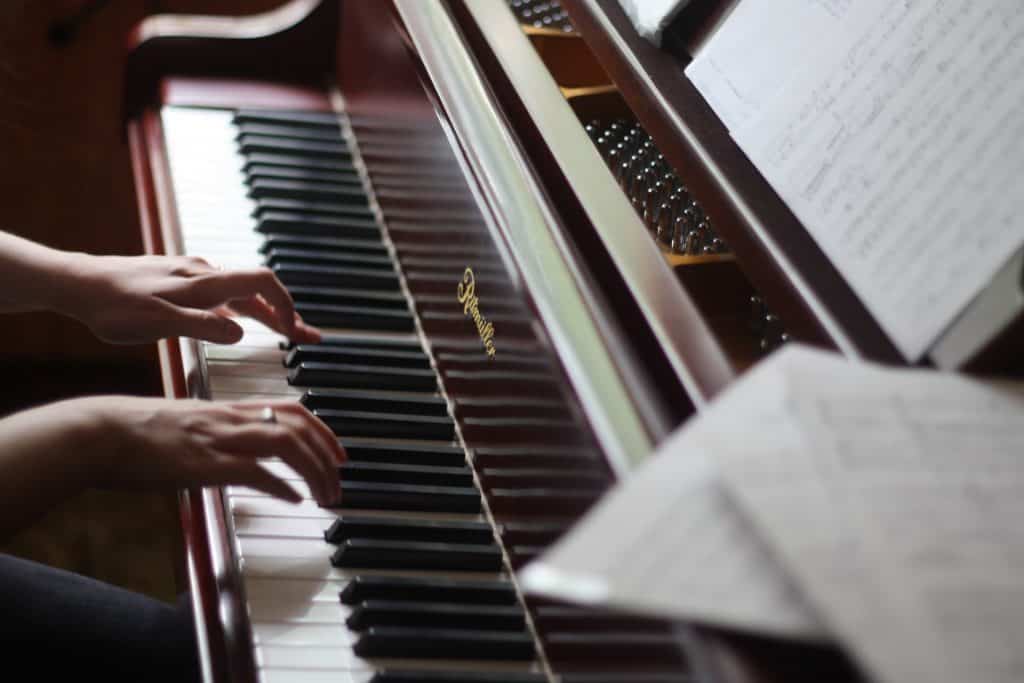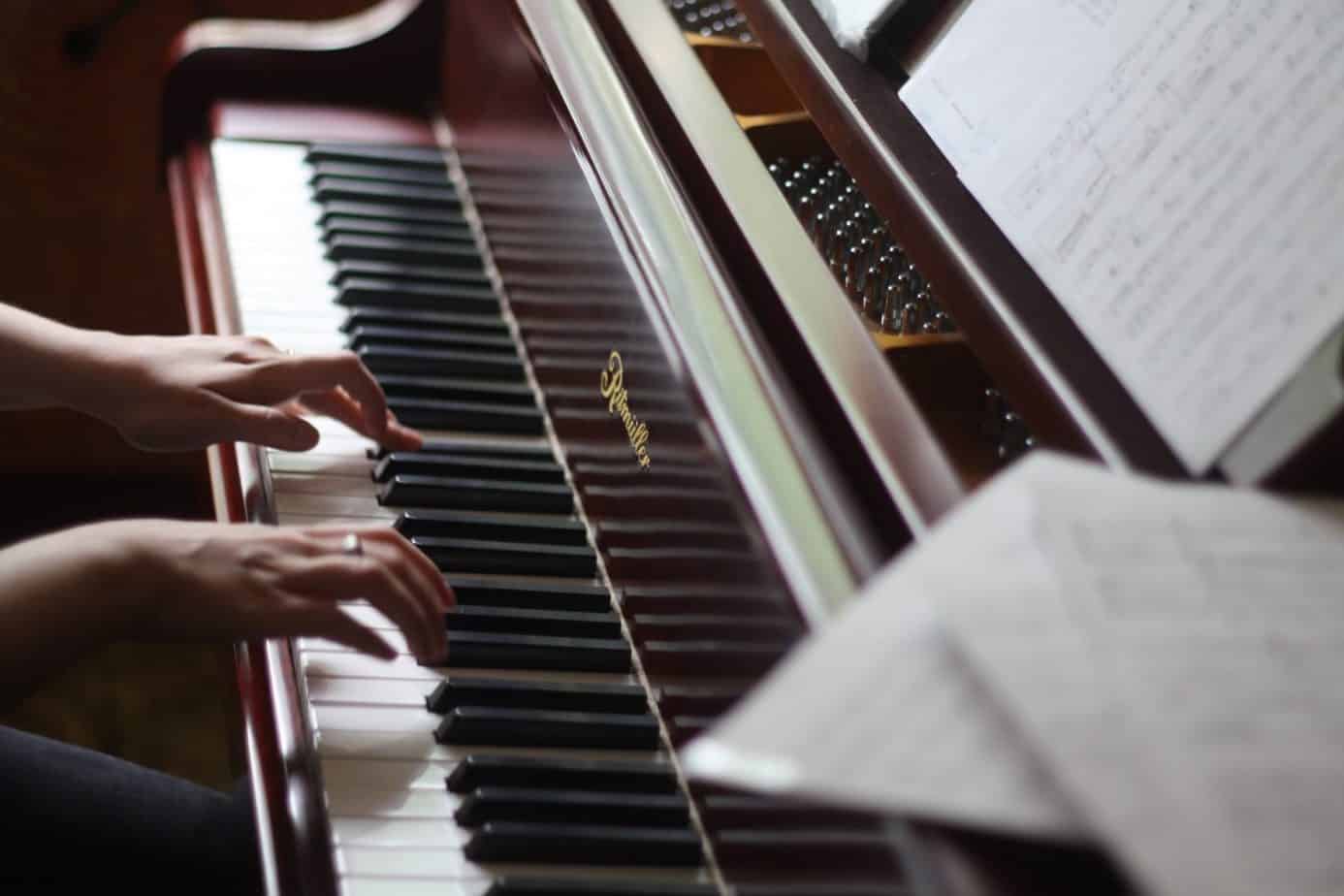 How might you go about choosing what to learn?
Once you have your list pieces, there are other criteria you can use for choosing the best pieces for you to learn. These are:
How might I benefit from learning different styles of music?

What songs complement my lifestyle?

How else might piano lessons enrich and impact my life?
How might I benefit from learning different styles of music?
Anyone who stops learning is old, whether at twenty or eighty. Anyone who keeps learning stays young." – Henry Ford
Learning the piano opens you to discovering the world of music. Behind every piece ever written there is a story. Inspired to know more? You can explore more about the genius of Mozart, Beethoven and Dubussy
here.
Baroque
Bach (1685 – 1750) wrote in the Baroque era. Keyboard music at this time valued structure, orderly compositional techniques, basic harmonies and beautiful tone. In learning this music you open a door onto a different time. The next song we will explore is Musette from The Anna Magdalena Notebook. This piece forms part of a collection presented by Johann Sebastian Bach to his second wife, Anna Magdalena. The Bach family played this music at home and now you can discover it. The Skoove app will help you place your hand correctly and ensure you are using the best fingers.
First you can play the arrangement above. However, piano is never just about playing the right notes. You can also listen to the piece on a period instrument
here
and you can explore other music from the same era
here
. I have selected the Goldberg Variations by Bach which he wrote to relieve the insomnia suffered by Goldberg. What will you discover as you research the history of the pieces you choose to play.
Dont play the notes; play the meaning of the notes. – Pablo Casals
This quotation from Pablo Casals, one of the greatest cellists of all time, is a reminder to discover the meaning of the music, as well as decoding the dots on the page. Expanding learning to include a wide variety of styles develops your musicianship more quickly. Listening to music from a wide range of genres develops your aural perception and facilitates deeper exploration of the meaning behind the notes. The Bach Musette offers so many levels of learning:
Historical discoveries

Enhanced listening skills through exploring YouTube.

Appreciation of the structure and form of early keyboard music.

A lightness and nimbleness of touch.
All these are very good reasons to explore a wide range of styles. You can discover more about Classical and Pop piano
here
. The same levels of learning can be found in any musical styles unfamiliar to you. Read on to discover romantic and ragtime music.
Neo-classical
Sony artist Florian Christl is a composer, pianist, arranger, and rising star in the contemporary classical world. Florian's single, Fly, takes his classical-inspired songwriting to new, romantic heights. And now, you can learn how to play it in a new lesson created with Florian himself!
Learn to play the song or listen to his new album here

Skoove also sat down with him to discuss his musical journey so far, read the full interview here.
Romantic
It is time for another musical journey. This time, to 1875, you are going to play the finale from the Ballet, Swan Lake by Tchaikovsky. In this Ballet, there are actually alternative endings, romantic and tragic. Can you play the piece in two different ways to match either a romantic or tragic ending? This is a creative way to explore expression. The Skoove app will listen and wait for you as you experiment.
To deepen learning, watch this video of the Finale form
Swan Lake Finale
. As you watch the dancers allow your playing to be influenced by the co-ordination and freedom of their movements. Learn more about creating a full romantic sound in this article,
How to Use Piano Pedals.
Ragtime
The jaunty style of ragtime came from black American musicians in the 1890s. Exploring this style will imbue your playing with rhythm, chord knowledge and syncopation (a displaced regular beat).
Ragtime is lively and makes a great addition to your repertoire. You can start now with The Entertainer. The Skoove app will listen to your playing and give you instant feedback as you master the syncopations.
This uplifting and charming recording was done by Scott Joplin himself on Pianola Roll. It is a rare opportunity to enjoy his raw, authentic style. For budding pianists it offers a chance to expand aural sensitivity as well as to share in the joy of this music.
Discovering new styles of music is a great way to keep learning and deepen your musicianship.
What songs complement your lifestyle? 
Music is a great facilitator. It energises, relaxes, restores, inspires, provides escape and more. The songs you play can support all aspects of life. Embedding your learning with music that complements your lifestyle increases long term engagement and well-being. Here are some ideas for choosing the best songs to learn depending on how you want your playing and time investment to serve you:
⚡ To Energise
Pirates of the Carribbean. This rousing song is also a great one to play for family and friends.
😌 
To Relax
This arrangement of the popular jazz standard, Autumn Leaves provides a comforting lilting beat.
👌
To Restore
The River Flows in You is a gently uplifting song.
💡
To Inspire
For creativity and inspiration, nothing beat doodling at the piano, try it with this improvisation, Black is Beautiful,
🚀
To Escape
Use music to travel, nothing beats the exotic theme tune of Game of Thrones for adventure and escapism.
How else might piano lessons enrich and impact your life?
The best songs to learn the piano are often also great songs to have in your repertoire. There is nothing better than sharing your new piano skills with family and friends. Christmas songs are always a hit,
Playing Piano Songs During the Chrismas Season
offers tips on three popular songs.
Piano songs also offer nostalgia. Nothing is sweeter than recreating our favourite music. The Skoove app offers a huge variety of music so there is guaranteed to be something for everyone. Here is another all time favourite. The Sound of Silence.
To extend learning and enjoyment use the chords, which have been usefully displayed on the Skoove app, as a basis for improvising your own melody. This creative activity is a perfect counter balance for the 'to do' lists of everyday life.
How might repertoire choice deepen and impact learning?
Developing your 'to play list' is a creative task in its own right. Here are a few guides.
Choose music that inspires you.

Balance this with music of a different style that will stretch you as you unlock new potential.

Add music that will delight family and friends, their support is priceless.

Introduce music that complements your lifestyle.
This uniquely curated 'to play list' will become a source of motivation. As the songs are learned it will become your 'repertoire list'. Pianists are fortunate, there is so much good piano music that there is something for everyone. It is all about finding the perfect combination for you.
Top piano songs of all time
A favourite song has the power to transport the listener back in time. Everyone has such a song that will stay with them and become a source of comfort and expression that they return to over the years. I love the idea that as pianists we can have such songs. These songs can be part of our first musical experiences. In the beginner stages the songs will be learned in simplified arrangements. As skills develop, new possibilities for subtle and expressive playing emerge. At this point favourite songs can be revisited, and learned, this time in more intricate arrangements. Essentially the song evolves as your playing does.
Skills and awareness are raised through interacting with such music over the long term. There are many anecdotal references made by concert pianists all expressing the same experience:
Learning the notes of a piece is easy, understanding them can take up to a lifetime! – Anon.
The most popular piano songs
Classic FM curated a list of the best pieces ever written for piano. You can read and listen to them
here
.
A good proportion of the songs on that list appear on the Skoove app in a simplified arrangement. This presents you with the chance to immediately begin to engage with these works that have stood the test of time and delighted listeners and performers for generations. Clair de Lune is one such piece, you can play it now. By listening to the piece first, the Skoove app supports you develop fluency and correct timing.
Music is the silence between the notes – Claude Debussy
When compiling your list of the best songs to learn the piano, consider the songs that you would like to have long term engagement with.

What are the best songs to learn the piano?
Only you can decide that!
I am an advocate of 'music for all'. Therefore the most obvious conclusion to draw when considering the best songs to learn the piano is this: the best songs to learn the piano are the songs that inspired you to start learning. These songs say something that
you
deeply connect with, that expresses your humanity.
---
Author of this blog post: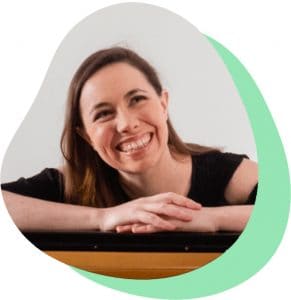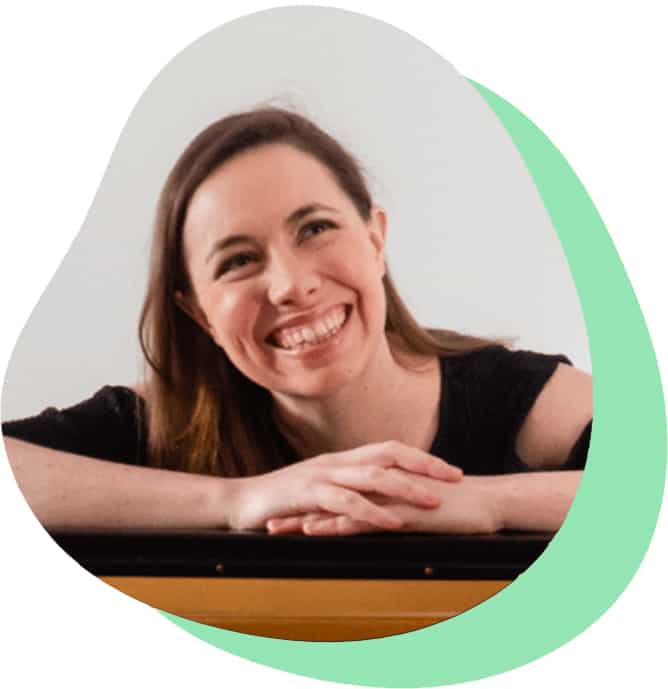 Roberta Wolff started piano lessons at the age of five and is still enjoying learning! Currently, she teaches piano pedagogy and performance pedagogy at post graduate level in the UK. Her other work includes running a private teaching practice for students of all ages and abilities and creating learning and practice resources. Roberta loves writing as a means to supporting others on their piano journey.
---