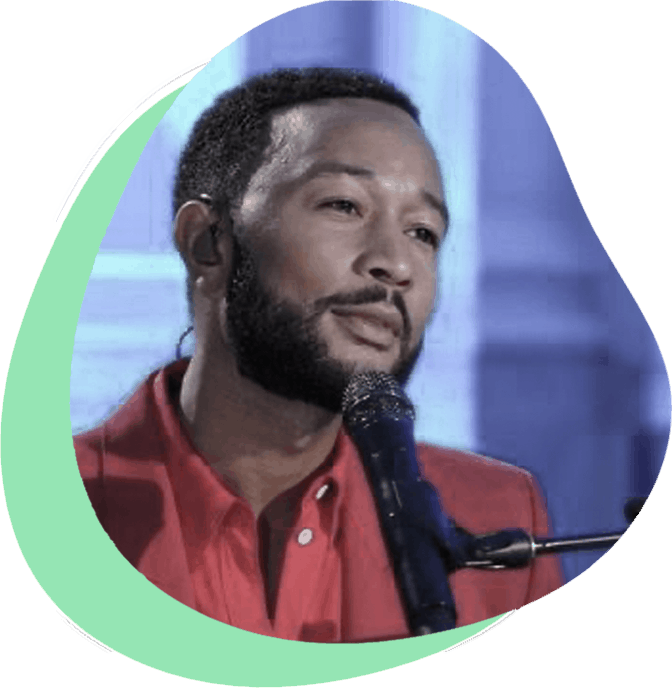 Practice tied notes and different chord patterns with one of the most romantic love songs ever.
Sign up for a 1 month free trial (no credit card details required) and learn All of Me and other iconic piano pieces with Skoove.
Take a sneak peek of our lesson
By John Legend and co-writer, Toby Gad, this 2013 hit single has become a standard and means many things to many people. "All of Me" was inspired by his wife, Chrissy Teigen. They shot the official video for the song in Italy, days before they were married.
The song reached number 1 in the UK and sold 8.1 million copies. Legend later released a country version of the song, duetting with Jennifer Nettles.
Cheat sheet
| | |
| --- | --- |
| Artist | John Legend |
| Composer | John Legend and Toby Gad |
| Release Year | 2013 |
| Genre(s) | R&B/Soul |
| Difficulty level | Beginner |
| Instrument  | Piano/voice |
| Key(s) | F minor |
| Meter  | 4/4 |
| Techniques  | 2-note chords in left hand, tied notes, change of hand position |
John Legend's All of Me piano chords! 
In 2013 John Legend and co-writer, Toby Gad, released a song inspired by his wife Chrissy Teigen. It reached #1 in the UK and sold over 8.1 million copies. The song is a beautiful ballad, detailing parts of true love, and the simplicity and power of his piano writing. 
All of Me can be played in any number of different ways, but a great way to start is to play the right hand and the root note of the chords, simultaneously in the left hand. This allows the left hand to act like a bass-player, and can add enriching sonority to the performance. 
In most contemporary music you will notice that all of the song sections contain repeated chord progressions between sections, this allows the performers to focus on interesting lyrics or production effects like synthesizers or interesting electric pianos. 
Tips for playing the song
The song is in 4/4, which means 4 beats per measure

Every verse section has the same chords

Establish a clear rhythm with the chords when playing, to keep the music moving

The left hand can play the root note of each chord, to play bass notes

Each of the chords gets 4 beats, every measure. 

The outro is the same as the chorus section, just very quiet and sincere
Now that you know these tips, you can learn to play 'All of Me' on piano step by step with Skoove!
Interesting fact
The lyric is full of opposites. Take the following lines from the song as an example: "My head's underwater and I'm breathing fine" and "You're my end and my beginning, even when I lose I'm winning."