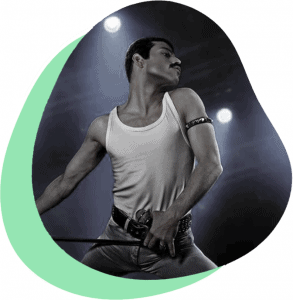 Learn arpeggios, 2-note chords, bass note and more with one of the most boundary-pushing pop songs of our time.
Take a sneak peek of our lesson
Bohemian Rhapsody was written by Freddie Mercury for the QUEEN album "A Night at the Opera". It was released in 1975, but he had started writing it during the late 1960's, composing the different components – a ballad, an operatic section and a hard rock section – at different times. Gradually, over several years, the different sections developed into what we hear now.
The song was recorded in several different recording studios over the course of three weeks. Despite being unusually long at six minutes, it sold over a million copies over the first few months following its release. Since then, it has had over 1.5 billion downloads and has been inducted into the Grammy Hall of Fame.
Cheat sheet
| | |
| --- | --- |
| Artist | Queen |
| Composer | Freddie Mercury |
| Release Year | 1975 |
| Genre(s) | Ballad, opera, rock |
| Difficulty level | Beginner |
| Instrument  | Piano/voice |
| Key(s) | Bb, Eb, A major, F major |
| Meter  | 4/4 |
| Techniques  | Arpeggios, 2-note chords, bass note |
Fun fact
Following its release in 1975, Bohemian Rhapsody was number 1 in the UK for 9 weeks. It was finally knocked out of the number one position by a song whose title was in the lyrics of Bohemian Rhapsody – that song was Mama Mia!
Learn to play Bohemian Rhapsody on piano step by step with Skoove