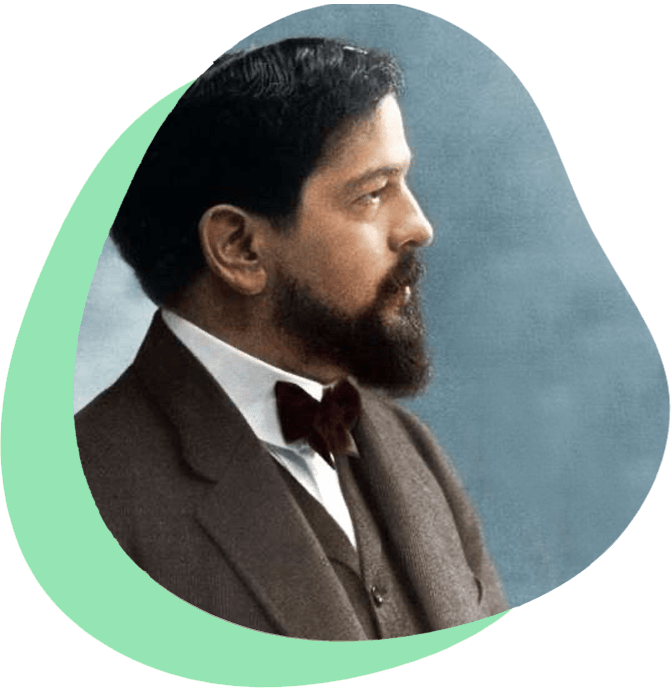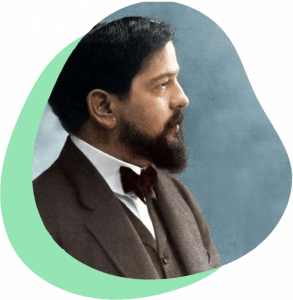 Practice playing in thirds with one of the most popular pieces from the impressionist era
Take a sneak peek of our lesson
Claude Debussy was a French composer who developed a unique harmonic style, pushing music into the contemporary 20th century style in much the same way that Beethoven pushed classical music into the romantic era. 
He wrote for orchestra – perhaps his best known orchestral piece is La Mer, but it is his piano music that is most popular today. "Clair de Lune" is perhaps his most famous piece of piano music and it is the 3rd movement of a suite of 4 pieces under the title "Suite Bergamasque". He began composing the work around 1890 but fine-tuned it until it was published in 1905.
Cheat sheet
| | |
| --- | --- |
| Artist | Claude Debussy |
| Composer | Claude Debussy |
| Release Year | 1905 |
| Genre(s) | Impressionism |
| Difficulty level | Intermediate |
| Instrument  | Piano |
| Key(s) | Db major |
| Meter  | 6/8 |
| Techniques  | Playing in thirds, more advanced tied notes |
Fun fact
The majority of established composers around in Debussy's day were highly critical and resistant to Debussy's "new" style of music and rejected it. However, Debussy refused to conform to old harmonic rules and eventually his style inspired other French composers including Gabrielle Faure and Lily Boulanger.
Learn to play 'Clair de Lune' on piano step by step with Skoove