💡This song is not on the Skoove app yet. Expect an update soon!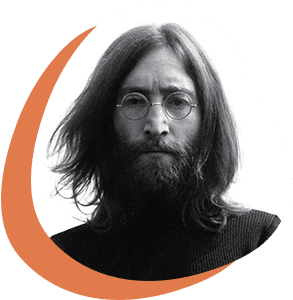 "Imagine" by John Lennon was originally composed in 1971. The song was the best selling single of Lennon's solo career. According to BMI,"Imagine" was one of the most frequently performed songs of the 20th century – which is quite amazing considering it was composed in 1971!
Take a sneak peek of the song Imagine
"Imagine" was co-produced with Yoko Ono and Phil Spector. It was released as a single in October of 1971 and rose to the number three spot on Billboard's Hot 100 charts. The song encourages listeners to imagine a world free from materialism, violence, and national borders. Since its release, it has sold over 1.7 million copies in the UK alone.
Cheat sheet
| | |
| --- | --- |
| Artist | John Lennon |
| Composer | John Lennon |
| Release Year | 1971 |
| Genre(s) | Rock |
| Difficulty level | Intermediate |
| Instrument | Piano |
| Key(s) | C major |
| Meter  | Common time |
| Techniques  | Broken chords |
Interesting fact
In 1972, Lennon and Yoko Ono released an 81-minute film to accompany the Imagine album which featured footage of the couple in their home, garden and their recording studio. 
Skoove helps you learn more than just the notes, why not try a trial today?