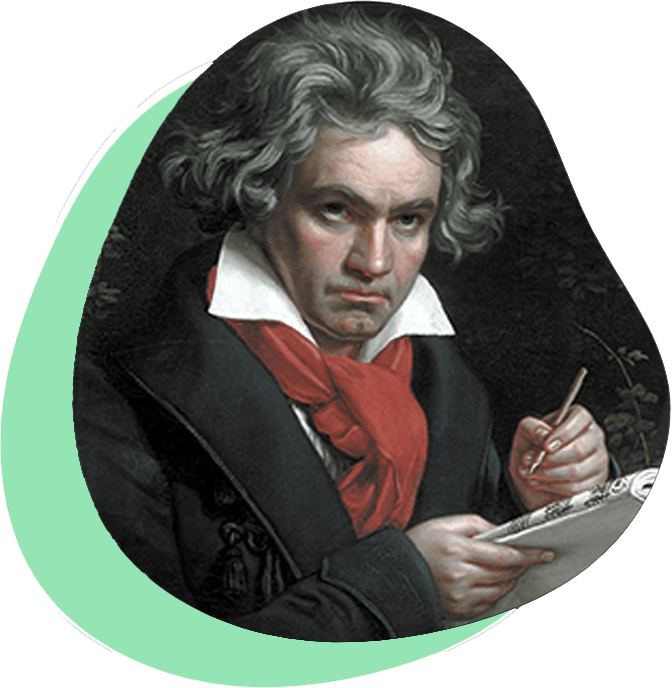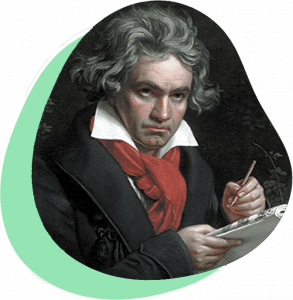 Practice broken chords in both hands and long held notes in the bass with one of the most famous pieces of music ever written for the piano
Take a sneak peek of our lesson
Ludwig van Beethoven had quite a few hits that are still in great demand over 200 years later. This is perhaps the second most well-known (the first being Fur Elise). The original is in C# minor and in cut time, but there are many versions in different keys and time signatures, mainly to make it accessible piano students who long to play it. 
It's well known that Beethoven lost his hearing. It was a gradual loss which started when he was around 28 years old. The Moonlight Sonata was written when he was 31, so there would have been some symptoms at the time he wrote this. It was unusual to start with such a slow movement and end with such a fast one. It's one of the many ways Beethoven pushed music from "classical" rules into a new era of music – the romantic era.
Cheat sheet
| | |
| --- | --- |
| Artist | Ludwig van Beethoven |
| Composer | Ludwig van Beethoven |
| Release Year | 1801 |
| Genre(s) | Classical |
| Difficulty level | Beginner |
| Instrument  | Piano |
| Key(s) | Original: C minor | Skoove lesson: D minor |
| Meter  | Original: 2/2 | Skoove lesson: 12/8 |
| Techniques  | Continuous broken chords in the left hand and then in the right hand. Long held notes in the bass. |
Interesting fact
Beethoven dedicated this work to his 16 years old student, Countess Giulietta Guicciardi. Beethoven was in love with her, but their romance eventually did not come to fruition.
Learn to play 'Moonlight Sonata' on piano step by step with Skoove