💡This song is not on the Skoove app yet. Expect an update soon!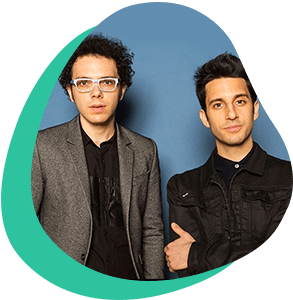 "Say Something" is a song by American pop duo A Great Big World from their debut album, Is There Anybody Out There?.Written by the members Ian Axel and Chad King alongside Mike Campbell, the song was originally recorded by Axel for his solo album This Is the New Year.
Take a sneak peek of the song Say Something
"Say Something" is a slow-tempo piano ballad that talks about a breakup, where the lover is implored to say something because the singer is giving up on them, with the singers expressing humility, sadness, and regret. The track gained attention from singer Christina Aguilera, who released a re-recorded version of "Say Something" on November 4, 2013.
Cheat sheet
| | |
| --- | --- |
| Artist | A Great Big World |
| Composer | Ian Axel, Chad King, and Mike Campbell |
| Release Year | 2013 |
| Genre(s) | Pop/Rock |
| Difficulty level | Intermediate |
| Instrument | Piano |
| Key(s) | B minor |
| Meter  | 12/8 |
| Techniques  | Odd Time Signature |
Interesting fact
"Say Something" debuted at number 16 on the Billboard Hot 100 chart after A Great Big World and Aguilera performed the song on The Voice. It eventually peaked at number four and has since sold over six million copies in the United States.
Skoove helps you learn more than just the notes, why not try a trial today?