On June 21, we're celebrating World Music Day – a good reason to look at the latest developments in music and technology. The idea of World Music Day is to encourage you to unleash your musical self. World Music Day, also known as Fête de la Musique, was originally established 35 years ago in France and is now celebrated in over 120 countries. Biased as we may be, we think Berlin has one of the greatest parties.
Berlin has also recently become the #1 startup hub in Europe. That's why six startups, all based in Berlin, came together to form the "Tech de la Musique" package to bring you the most innovative music experiences you've ever had. It doesn't matter if you want to learn piano or take guitar lessons with instant feedback, improve the way you listen to your music based on a hearing test, feel your music through bass vibrations, use the latest metronome technology on stage or during rehearsal, or simply interact with music in a new way, check these apps and gadgets out for a whole new music experience and enjoy all the benefits of music education!
1. Skoove
Skoove is a fun and effective piano learning platform that offers the world's first interactive online piano lessons. Learn to play piano with in-depth online courses that adapt and give feedback in real time. Skoove is the easiest way to learn piano for beginners, refreshers, and intermediate players.
Read also: Why you should consider learning with a piano app
Web: www.skoove.com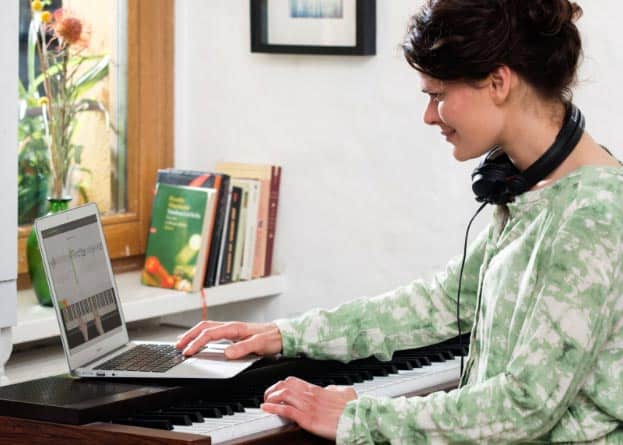 2. Uberchord
If learning guitar was like learning a language, Uberchord would be the cheerful tutor who patiently guides you through the fundamentals. This slick and innovative guitar-teaching app doesn't just help you master chords by listening to you play; it strings exercises together in a way that bolsters confidence and makes practice fun. Visual feedback lets you adjust your fingering on the fly, and the built-in guitar tuner ensures you never hit a sour note.
Web: www.uberchord.com
FB: https://www.facebook.com/uberchord
3. Mimi Music
Mimi Music is an app that unlocks the power of music based on your earprint. Check your hearing with the medically certified hearing test to create your earprint, pick your favourite song and fine-tune your music to your personal preference and environment. Your earprint lets you tailor every sound to better match your hearing profile and ability. Hear clearer sound with more nuances and details from your music. Mimi Music also gives a superb experience for those with hearing problems or with even some form of hearing loss.
Web: www.mimi.io/music
FB: www.facebook.com/mimihearing
4. Basslet
The Basslet is a unique wristband that delivers beats and bass lines of your music directly to your body so you can literally feel your music. The result is a rich and powerful sensation of sound that headphones alone cannot provide. Lofelt, the makers of Basslet, developed a completely new vibrotactile technology for sound: the LoSound engine recreates the same bass spectrum as a large subwoofer with the highest possible precision.
The Basslet launches internationally on June 21, 2016. Support their campaign on Kickstarter – and be the first to discover a new dimension of sound!
Web: www.lofelt.com/basslet
5. Soundbrenner
Soundbrenner created the world's first wearable device for musicians, the Soundbrenner Pulse, a smart vibrating metronome that utilizes advanced haptic technology to let musicians feel the beat, helping them to play with rock-solid precision, speed, and accuracy. They are also the team behind The Metronome by Soundbrenner, an acclaimed rhythm app available for both iOS and Android devices that makes the Soundbrenner Pulse even smarter.
Web: www.soundbrenner.com
FB: www.facebook.com/soundbrenner
6. NagualSounds
The Nagual Sounds technology allows real-time translation of any kind of data stream, such as sensor technology of mobile phones, cars, 3D-cameras, and such into music. A music producer doesn't finish a song with the Nagual production software but all the elements, instruments and the structure of a song instead. NagualSounds offers two products: NagualDance, which transforms body movement into sound and NagualSense, which uses the smartphone sensor to create music.
FB: www.facebook.com/Nagualsoundsofficial
So there you have it. Six new and interactive ways to experience your music your way. Give these a try and unleash yourself through sound. Happy Fete de la Musique!
Learn more about Fete de la Musique here.