Skoove is the beginner-friendly Flowkey alternative
The main difference between Skoove and Flowkey is that Skoove makes piano learning more approachable for beginners. Everything from songs' arrangements, to ear training, and hand technique starts at your skill level and grows with you.

Free access to all songs and piano lessons for 7 days
Skoove takes you from beginner to accomplished pianist
"That was taught really well, in a way that I could catch on quickly but separated enough so it wasn't too much to take in. How encouraging! A quick, packed lesson. Thanks!"
Beginners struggle with Flowkey
Flowkey expects beginners to take a shot at tough songs and lessons before they are ready. People get stuck, frustrated and abandon practising.
Skoove has a smooth learning curve
Skoove matches piano lessons to your level — whether you are a starter or a skilled player. The more fun you have with Skoove, the faster you master the piano.
Reviews say Flowkey can be too challenging
Verified App Store Review
"I can't memorize pieces like this app is apparently expecting you to"
Verified App Store Review
"It kills your momentum in playing"


Verified App Store Review
"Totally stinks for beginner and intermediate students"


Verified App Store Review
"There are only two speeds - super slow or super fast with nothing in between."
Verified App Store Review
"A lot of problems with the wait mode that make learning with this app incredibly more difficult."
Verified App Store Review
"Every time I use it, I feel more frustrated rather than having fun or learning to play something."
Verified App Store Review
"There is no way to gauge your current skill level and start from there."


Verified App Store Review
"The courses are good, but uneven with no directed progression."


Skoove is built for piano players of all levels and backgrounds
Flowkey puts beginners under pressure
Many songs labeled for beginners are actually too difficult to play. Newcomers quit before they even get a chance to improve.
Skoove takes good care of beginners
Skoove students are happy to find song arrangements to be the perfect mix of challenging and doable for beginners.
Flowkey focuses on repetition
You'll find yourself repeating notes over and over again. This is the standard learning method for Flowkey on all their lessons.
Skoove embraces all kinds of learning
Our piano lessons include visual tips and cues. You can learn music theory or improvise. You get to improve your technique and train your ear as well.
Flowkey choose a path for you
You can only move in a single direction with Flowkey. If you don't finish the lessons as presented, you can't unlock new experiences.
Skoove lets you choose how to learn
We show you the right path if you want guidance. But all of our lessons are unlocked, giving you full freedom to test different skills.
How Skoove makes learning piano easier
Support for visual learners
Get visual cues on which notes to play, where to position hands, and how to improve your technique.
Easy to navigate
You won't feel lost going from one lesson to the next one or finding your favorite artists to jam to.
Learn by ear
We focus on training your ear. When you "get" what you are playing, you can absorb new skills faster.
Features that make Skoove different from Flowkey
There's an extra challenge to learning the piano without a live teacher. Make sure the app you choose supports your progress the right way.
Learn the piano without a piano teacher
Free lessons during the Corona outbreak
"I always wanted to play piano. This app not only makes it easy to learn, but VERY FUN! It will retain any student's attention."
Flowkey
Support from piano experts
Skoove
Support from piano experts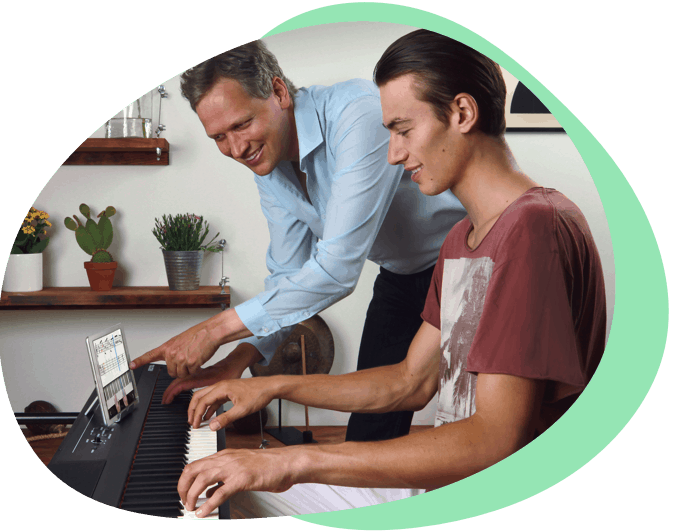 An alternative to Flowkey for all kinds of people
When you sit down with Flowkey after installing the app, the first song you're asked to play is "Ode to Joy". With Skoove, your first song is the main theme from Pirates of the Caribbean.
This is not necessarily bad, but it speaks to what you can expect while learning the piano with each tool.
Flowkey feels more traditional and teaches how to play the piano with a classical approach.
Skoove is fun and inclusive. And it's meant for everyone.
If you feel having a good time and playing your favorite songs is as important as leveling up your skills, we believe there's no better way for you to learn the piano.
Give Skoove a try.
"I am really enjoying this app. The selection of tunes is fantastic and the teaching format makes learning fun and easy!"
Frequently Asked Questions