If you are as excited to watch Rocketman in theaters as we are, you probably know that the Elton John biopic will be released on May 31st. The film will not only offer insights into Elton John's life and work, but also delve into why he yielded so much success throughout his career.  And just like a small town legend can become one of the greatest pop stars of all time, you, even as a beginner, can master some of the beloved Elton John piano tunes. But what transformed an industry underdog into a legend? And how can learning his music specifically inform your own progression as a piano player?
? Eager to learn the Rocketman soundtrack before reading more about Elton John's career? Find it here! 
Elton John's piano playing
You can instantly recognize an Elton John song from the way that its chord progressions and subtle key transitions produce an effortless wave of emotion. The chords themselves may be taken from the classic pop library, but the way he pairs them is novel and irreplaceable. The iconic melody that makes up Ed Sheeran's favorite "Tiny Dancer" is primarily supported by two chords. Two chords that somehow yield an unforgettable staple. When a new chord is introduced, its impact is intensified, though the average listener may not know why.  Elton John's chord progressions teach us that a little knowledge can go a long way. He turns the simple into the mysterious and leaves the listener entranced.
?If you want to learn these magic Elton John chords: The first few chords that you learn on the piano are more than enough to replicate some classic tunes and even improvise your own.
From solo to Broadway to the Hollywood screen
Part of Elton John's enamoring quality comes from the fact that his style can seamlessly float across genres. He may be famously known for his orchestration of The Lion King soundtrack, but his 2008 Broadway musical rendition of Billy Elliot is just as impressive. Numbers like "Solidarity" and "Electricity" provide an interesting contrast to the "Be Prepared" and "Can You Feel the Love Tonight" that we all love. Technically, "Electricity" and "Can You Feel the Love Tonight" have a similar chord progression. But the stories they evoke make that analysis the least interesting part. The common element between all these works? They're all catchy and rooted in the basic principles of what makes pop music tick.
? Learn the basic principles of pop music by playing pop-classics in our Pop Piano Course. Play freely following chord-symbols and learn how to improvise.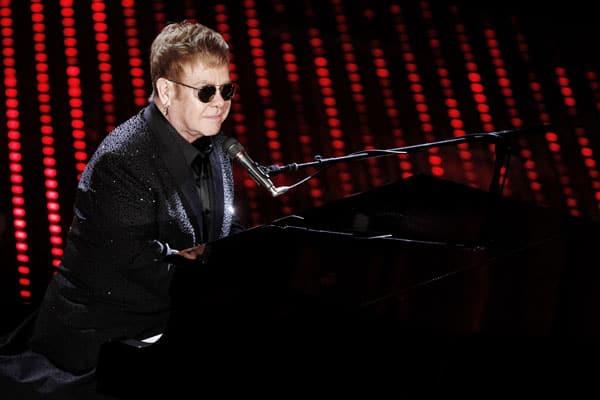 Elton John and the perfect merge between quantity and quality
A major word used to describe Elton John is "prolific", due to the 30 solo albums and 14 collaborations he crafted throughout his career. Though nothing beats the anticipation of waiting ten years for the next James Cameron masterpiece, there is something to be said for consistency.  After all, Elton John's commitment to production proved the point that practice makes perfect – even for those with inborn talent.
Elton John's iconic writing style yields a wide variety of potential sounds.  Though "Tiny Dancer" (1792), "Goodbye Yellow Brick Road" (1973) and "Don't Let The Sun Go Down on Me" (1974) were written in immediate succession, they each have their own unique identities. This shows above all else that a perfect merge between quantity and quality is possible and that Elton John found it.
So why Is Elton John a pop music legend?
And what does that mean for your piano-learning process?
First, if music's primary purpose is to evoke emotion in yourself and the listener, how amazing is it to know that this effect can be created with just a few notes? In his brilliance, Elton John created works of art that are accessible to the masses. You don't have to achieve Elton John's pianistic prowess to recreate the emotions that stream from his music.
Second, Elton John's music shows how versatile piano music can be, floating across genres with confidence. Hopefully, as you grow in your piano playing abilities, you will experiment with pop songs, classical legends, Broadway hits and even jazz. You may find you like one genre better than the others. Or, like Elton John, you may find a happy medium between all of them.
Would you rather have several tunes up your sleeve or completely master a few? Maybe you don't have to choose. Elton John was consistent in his writing enough to span across genres prolifically while maintaining the utmost quality. It all really comes down to how you learn. Do you learn better by sifting through material or by patiently grappling with one piece until it is perfect? Keeping Elton John's musical gifts in mind as you progress will ensure that you not only learn piano quickly, but correctly.
Rocket man piano cover
By the way… We created a piano cover of "Rocket Man". We hope you enjoy it!