Many of the DJs and producers you'll see on stage this summer have a musical background in piano. If you have tickets for Tomorrowland in Belgium or another electronic music festival this summer, you must be counting the days. But how do all these DJs and producers become worthy of taking the stage at such an epic event? Yielding from all corners of the world, their training processes must be vastly different from one another. What they have in common is a deep understanding of how musical notes fit together – something that is best achieved through learning the piano.
Start your musical journey
Fall in love with the music — Learn your favorite songs; whether they're classical, pop, jazz or film music, all at a level that suits you.
Enjoy interactive piano lessons — Learn with courses that help you master everything from music theory, chords, technique and more.
Get real-time feedback — Improve your practice with rich feedback as Skoove listens to your playing and highlights what went well and areas for improvement.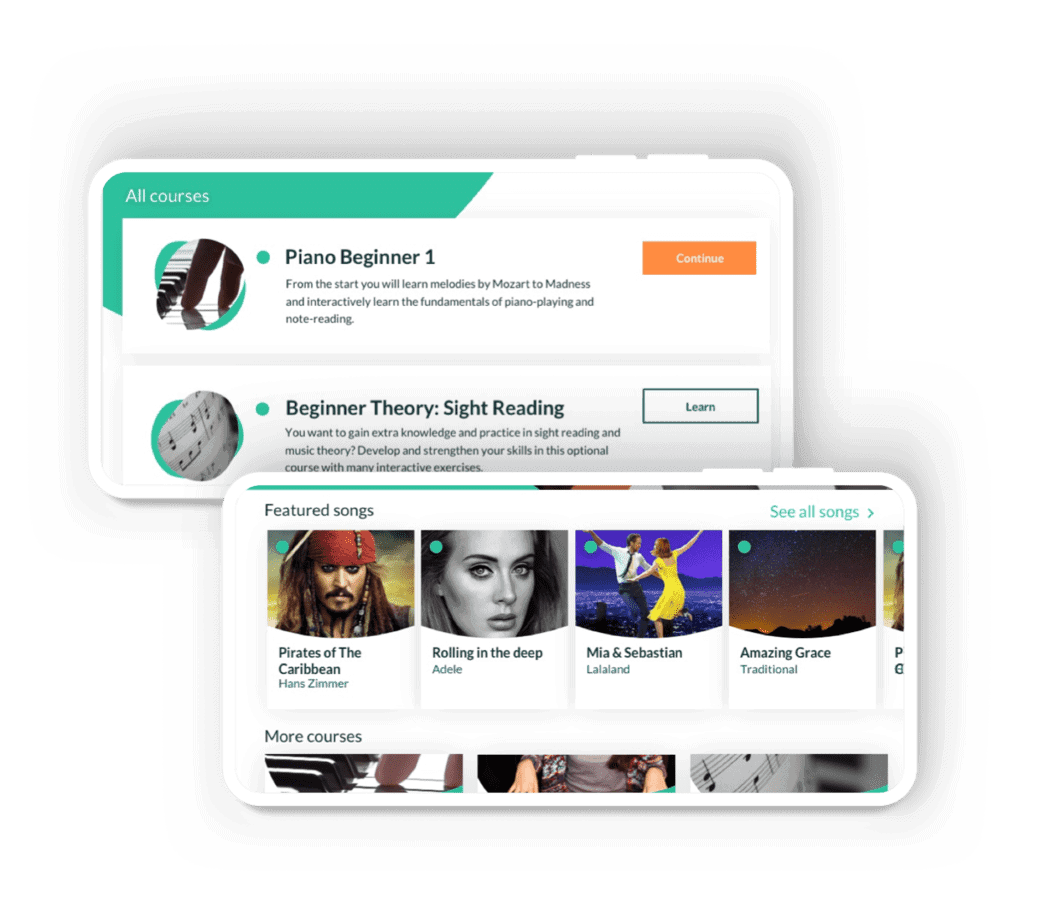 7 days free trial
$9.99 / month after the free trial, billed annually at $119.99
Start your free trial now
Music purist and EDM
The lineup for Tomorrowland features some of the top names. We're talking Martin Garrix, Steve Aoki, Bebe Rexha and Flux Pavillion in Weekend 1 and Alesso, David Guetta, Axwell and Robin Schultz in Weekend 2. It is sometimes said that "music purists love to hate EDM". Moreover, they find that EDM producers rarely break out from the same predictable chord progressions. 
Supporters of the industry would argue that these DJs have found the progressions that are sure to make millions of dollars. And that these discoveries are rooted in a physical understanding of the relationships between different musical notes.
Check out our article: Learn this easy piano chord progression and play more than 50 songs!
Piano lessons for producers?
All signs point to this being true, given that moguls such as Steve Aoki, Skrillex and David Guetta began their musical careers by playing in bands. While recording tracks in his college dorm room, Aoki experimented with keyboards and guitar riffs on stage. And it could be this foundation of experimentation that makes him always ahead of the game.  
David Guetta brings a background of French Electro-Pop to the EDM industry, from which he learned to play piano in a 'sensual manner'. There's a reason that the introduction from his 2012 hit "Titanium" begins with just a few notes that fall naturally onto the soundscape like rain drops. Guetta has spent years exploring the spaces, between notes.  
A concept like this is hard to internalize in one's head without experiencing how different notes represent themselves on the surface of the piano. By pounding out note after note to witness and label a variety of sound firsthand, these talented producers were able to later identify the combinations of notes, chords and rhythms powerful enough to light up an endless flock of people. 
?Pretty amazing: The super catchy melody in 'Das Modell' is simply constructed from just two tones of the A-minor and E-minor chord.
Want to play the intro to "Das Modell" and learn how to find chord-material for your own track? Become a Skoove Premium member!
But what can you as an aspiring producer learn from studying the piano? The possibilities are never-ending, but we've laid out a few.
Through piano, producers learn from the greats
You have a list of favorite EDM numbers created by a variety of producers. And on first listen, you may find it hard to believe that these large-scale sounds come from actual musical notes.  The good news is that they definitely do and by eventually unpacking these melodies yourself on the piano, you will understand them better, which undoubtedly will inform your ability to produce your own tracks. 
Progressions, harmonies and modes, oh my!
You might not yet be ready to interpret the melodies within your favorite numbers by ear, but our piano Producers Course will walk you through the many ways in which these melodies are developed, and teach you how to learn piano chords for music producers.
First you will see what it means to set up a string of chords, known as a chord progression. Then, you will learn how to break up these chords and apply different rhythms to them, using a pianistic technique called an "arpeggio." After being encouraged to create your own progressions that fit within the track you want to build, you'll finally learn how to alter these patterns to entrance your listeners.
?In 'Praise You', Fatboy Slim uses a very cool chord progression called the '7-4-1 progression'. 
Become a Skoove subscriber to get to know the famous 7-4-1 chord progression yourself!
Learn piano in our Producers Course
Hopefully, after reading these tips and studying our Producers Course, you've gained insights that empower you as you move forward in your journey learning piano. Take a final moment to be introspective: How would your favorite EDM tunes change if they were arranged a different way? How much do the bare bones of a track – the parts that you could play on the piano – define the whole song?
Try out your free trial of Skoove today!
Share this article